IT Recruitment. Practice. Only. Course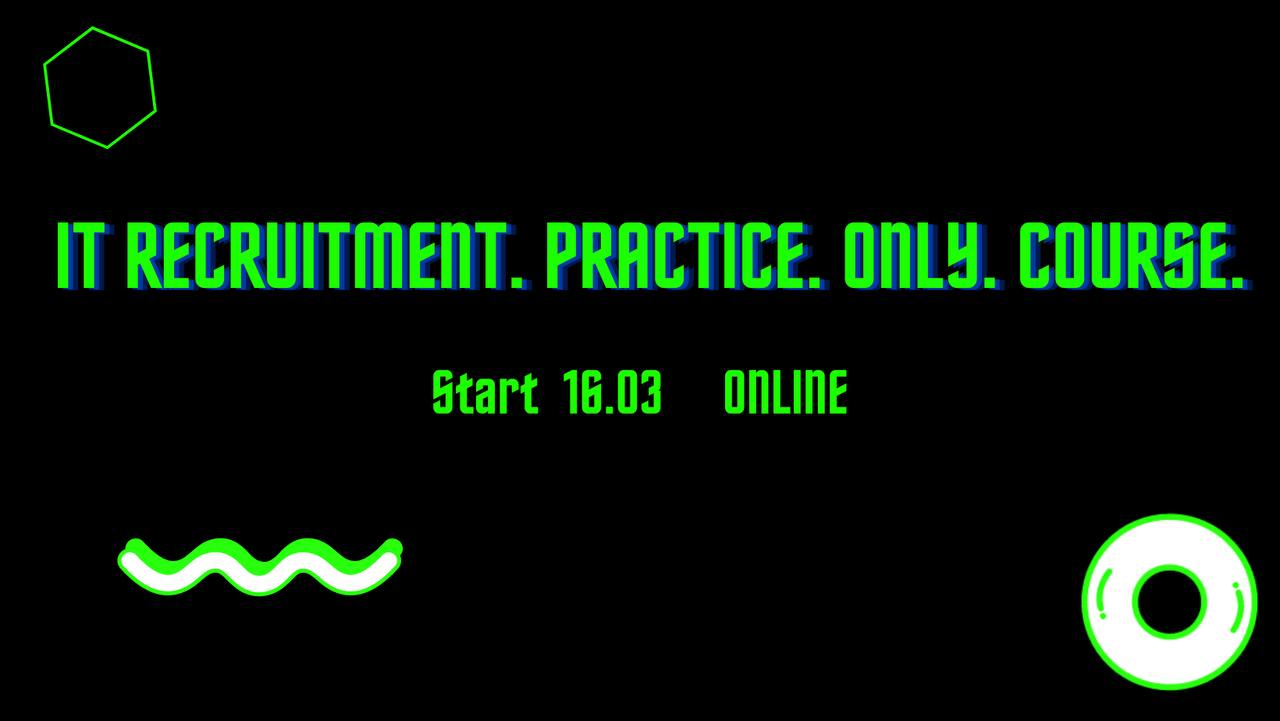 On March 16th starts IT Recruitment. Practice. Only. Course — a school for IT recruiters from Data Science UA.
At Data Science UA, we don't need the six-handshake theory to meet key market players. We create the perfect match between IT professionals and the best companies in the world.
More than 4 years of experience in IT recruitment and we can find any candidate for any project and a cool team for the strongest engineer.
So, we decided to gather all our knowledge, experience, real cases and created a course that will help each participant to become a first-class IT recruiter.
By the way, at the end of the course, the "excellent" graduates who pass the final exam can become part of our team and receive an offer from Data Science UA.
You need our IT Recruitment. Practice. Only. Course if:
you work as a recruiter, but decided to discover the world of IT;

you have heard a lot about IT and want to build a career in this field;

you want to reach a new level and close more complex vacancies;

it is convenient for you to work from anywhere in the world
Learn more about the program of IT Recruitment. Practice. Only. Course 
You need our IT Recruiter School because:
Our speakers are TOP specialists from the best IT companies. You can read hundreds of books, and you can chat with those who have gone through all possible challenges and gained invaluable experience. School mentors will share insights that are used daily.

The program is the heart of our course. It will beat in the rhythm of the most current practices, tools, and approaches used by a first-class IT recruiter.

Practice. Practice. And a hundred more times

—

practice. Every second Saturday we will test all recruiting tools on ourselves during practical workshops.

Possibility of real employment immediately after the course. The best students will have a chance to receive an offer from Data Science UA.

Atmosphere. Lots of theory and practice. In addition, new, promising acquaintances and networking with like-minded people.

80 level in knowledge of the IT recruiter in 45 days. You grow professionally and personally. And this is the best foundation for a successful career.
Course format — online. On Tuesdays and Thursdays, from 07:00 p.m. till 10:00 p.m.
The course lasts from March 16th to April 22nd.
Speakers:
Volodymyr Levytskyi. Technical Recruiter, Grammarly

Ksenia Konorskaya. Head of Recruitment, Reface

Karina Karpenko. Technical Recruiter, Bolt

Oleksii Grekov. Head of Recruitment, SQUAD

Yulia Kudina. VP of People, Reface

Yana Pampukha. COO, Global Talent

Yulia Melnychuk. Talent Delivery Specialist, Intellias

Kateryna Voitenko. HRD, Greenstone Management

Maria Dziubina. Former Head of PR and Brand communications, Ring Ukraine

Anatoliy Yurynsky. Team Lead, Cycle

Alexander Reshetnikov. IT Recruiter, Brightgrove

Alexandra Boguslavskaya. CEO / Founder, Data Science UA

Anastasiia Rusavska. Head of Recruiting, Data Science UA

Ksenia Roshchina. Recruiting Lead, Data Science UA

Mila Chernyi. Recruiting Lead, Data Science UA
Let's create the perfect match together