Businesses Need Complex Support for the Development of Data Science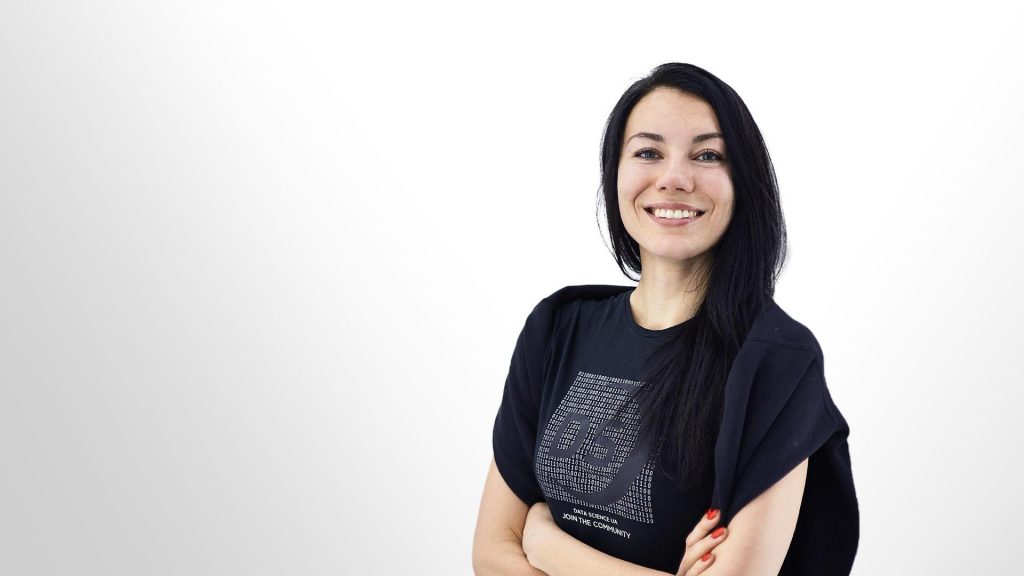 Future magazine spoke with Aleksandra Boguslavskaya, CEO & Founder of Data Science UA, about AI trends and how they affect business.
Future magazine: What are the AI trends in the world now and how relevant are they to the development of this industry in Ukraine?
A.B.: At the moment, there are five main trends in the development of AI in the world:
Popularization of Computer Vision (in particular facial recognition)
With the development of computer power and the emergence of a variety of image processing technologies, the question has become increasingly popular: is it possible to teach a machine to see and recognize images?
Until recent years, this was the prerogative of mostly large corporations such as Apple, Facebook and Google. Now, more and more representatives of medium-sized businesses are starting research projects in order to understand how it can be used in practice.
Use in solving specific problems
It takes time for any sensational revolutionary technology to become a reality. For example, not all companies immediately switched to work in the cloud.
AI is moving from the status of "incomprehensible" to the status of a "permanent and necessary" participant in business processes.
In our experience, many companies in Ukraine already have models for simple cases: sales forecasting, churn forecasting, product recommendations, etc.
Machine learning automation
Automated Machine Learning (or AutoML) is steadily gaining popularity. The main idea is to take over the entire process of machine learning development: from preparing and processing data to choosing metrics and types of validation.
Growing the industry
The number of machine learning startups has plummeted over the past two years. Every startup uses more and more complicated technologies. These companies require more than just two guys who train neural networks on open data in a garage. They require professional programmers, powerful servers, a data annotator team, complex support, etc.
As a result, there are fewer startups in this space. At the same time, there are more ready-to-use products.
Ethical AI
There has been a lot of discussion recently about the GDPR, the general data protection regulation. These international policies have influenced the way data is collected to deploy applications.
Is it ethical to work under the supervision of AI that can fire you? What is the normal probability of error in recognizing a criminal? So far, these questions remain unanswered. Professionals need to develop a general concept that others will follow.
The influence of these trends is also observed in Ukraine. Every year, more and more companies are thinking about the possibilities of artificial intelligence for their own purposes, new projects are being created, many of which are aimed solely at using Computer Vision technologies. But it is too early to talk about the ethical side of the issue in the context of immature legislation.
What are the areas of application of AI today and what benefits do they bring to a business?
A.B: The main areas of AI application in the world are predictive analytics, customer acquisition, process automation, security systems and generative creativity (the concept of using algorithms to produce new content).
From the point of consulting, namely the clients who call to us, I can point out the three main areas of business – retail, fintech and the agricultural sector.
The main driving force behind introducing AI in business is gaining a competitive edge.
With the right usage of AI, businesses will benefit from:
Saving time and money by automating and optimizing routine processes and tasks
Increasing productivity and work efficiency
The avoidance of "human mistakes"
Retrieving new data that will help expand the customer base
Increasing income by identifying and maximizing sales opportunities
Expanding expertise through analysis and offering personalized experience to clients
How developed is the topic of AI in Ukraine in terms of human resources and usage in business?
A.B: Data science is a very trendy topic not only in Ukraine, but also across the world, and the demand for such teams is growing.
Glassdoor, a service that anonymously posts salaries and working conditions from current and former employees of various companies, estimates that the average annual salary for a data scientist in the US as of 2019 is $117,345.
At the same time, LinkedIn, relying on its own data, reported that the shortage of specialists in the field of data science for 2018 in the United States was more than 150,000 people.
"AI is more and more moving from the status of" incomprehensible "to the status of a" permanent and necessary "participant of business processes …"
Since one of the services of our company is recruitment & executive search, and we specialize in the selection of AI specialists of different levels and directions, we have the opportunity to see all the trends in this niche—as well as the dynamics of hiring and expectations of candidates.
We work with the selection of C-level management. These positions are especially relevant not only for IT, but also for other businesses that seek to support and introduce new technologies.
Businesses needmore complex support to develop data science competencies. Data science for business is all about revealing insights hidden deep in the data you collect for extracting business values. Therefore, we try to always be aware of trends and solutions and have up-to-date information that can be useful and applicable.
Ukraine can really be proud of its talents. AI is rapidly gaining momentum and, as already noted, now it is one of the most promising areas for development. Several categories of people work in this niche, including:
Young talent that decides to start their careers right away with data science. They have a really good technical and engineering background, so it is not difficult for them to prove themselves and grow quickly;
Experienced engineers who have been involved in development for several years, but at some point decided to "switch" to data science.
Each of these representatives has its own strengths and good chances for development, since the market requirements are now ambiguous and vary greatly from company to company.
For example, someone is looking for a research engineer for his team, for whom it is important to have a mathematical background, knowledge of algorithms and experience in ML / DL. And for someone it is important to hire a team of an engineer who is equally strong as a developer (for example, Python or C++) and as an ML engineer who knows how to use a large number of existing libraries and frameworks.
As in any current area where there is a shortage of specialists, the salary level in data science is higher than the market.
In Ukraine, the average salary of AI specialists remains one of the highest among other IT professionals – from $4,000 for senior engineers.
The top trending skills that the company wants to see in their candidate's profile are machine learning, computer vision, natural language processing (NLP), algorithms, mathematics. Experts who confidently work with deep learning are gaining ground.
Recruiting personnel, regardless of the area, is always a very complex process. Our experience allows us to go beyond the classical recruitment in the "agency-client" chain. We provide an integrated approach and work in two directions at once – "candidate↔community↔company".
This allows us to see the full-fledged situation and its dynamics in this niche. Having worked for some time in the adaptive model and having talked with all representatives of the process, we can say with 100% certainty that there is a lack of experienced specialists in Ukraine, and the need will continue to grow.
This is due to the sharply increased demand for AI specialists from the business side, as well as the number of startups in this field. Therefore, in parallel with the process of implementing ideas and hiring people in the field of data science, there is a need for additional education and platforms for exchanging experiences.
Our team conducts courses and conferences for the development of the data science community. In September, we conducted a two-day course—an intensive course in Data Science and Analytics with Professor A. Romanko from Canada (suitable for everyone who wants to understand this direction, especially since Alexander describes all concepts in very simple words – it will be accessible and interesting for everyone – like Data Science for beginners).
What are the goals of the conference and how does it help to implement the technology in the real world?
A.B: The Data Science UA Conference is a concentration of new projects and technologies in the field of data science. It is intended for both experienced data scientists and managers who are just immersing themselves in our field.
At the conference there are three streams: a technical stream and a stream of workshops for developers, a business stream for managers and company leaders, and a panel discussion with the strongest representatives from the world of business and development.
On the technical stream, top developers talk about their practical experience, technical difficulties and the latest approaches to solving problems.
The business stream will immerse managers in the world of data science (it will be useful for managers from fintech, retail, agro and others), and the stream of workshops allows participants to complete real tasks in real-time.
The objectives of the conference: to acquaint people, discuss the development of data science in Ukraine and the world, and host as many experienced Ukrainian and foreign speakers as possible.
The conference allows you to learn about the best practices of data science implementation in different companies, as well as meet like-minded people from all over Ukraine and the world.
Aleksandra Boguslavskaya, CEO & Founder Data Science UA